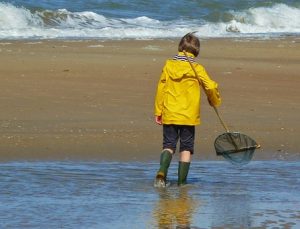 Taking your children fishing is a great way for your family to bond. It also shows your children that there is more to life than their mobile devices and game consoles. Fishing also gets them outside and lets them explore the wonders of nature and learn the fine virtue which is patience. Taking children fishing will require a lot of patience from both children and adults. As it is a new learning experience, you need to expect your child to get things wrong. You need to make allowances for this.
When to Go
You should choose a day that is sunny and dry with some warm weather. There is nothing worse than heading out to fish in cold and wet weather. In these conditions, your children will get bored and want to go home sooner.
What to Pack
Be Prepared, being prepared is very important when you take children fishing. You need to ensure that you have enough food and drinks with you. If it is going to be a very sunny and hot day, you need to have some sun cream as well. You should also pack a lot of insect repellent, a change of clothes and some anti-bacterial wipes to keep everyone's hands clean. Chairs and a blanket to sit on will also be important because children will get tired of standing with a rod in their hands. This is particularly true of they are not catching anything. Before the fishing trip, you should take the time to plan some activities to keep your children occupied when the fish are not biting. A deck of cards, some games for the family to play or some colouring books are good ideas.
Other Choices
If your children are not catching anything, you do not want them to think of the day as boring because they will not want to come out again. Choose a fishery perhaps if you want your trip to be a success and if you need to choose the right place to go consider Lake Raho. A fishery that is well stocked is a good idea because the chances of catching a fish will be much higher. This will make it more exciting for the children. You should also choose a fishery that is family-friendly and does not get too crowded.
As children lose interest fairly quickly, you should choose somewhere that has other things for them to do when fishing has lost its appeal. Slides and swings are a good option depending on your child's age.
Teach Children To Handle Fish When your child catches a fish, they are going to be excited. This leads to them wanting to hold and touch the fish. You need to teach them how to handle them carefully and gently. Also show them how to return the fish to the water as quickly as possible. You should tell that that handling the fish too much will hurt them because it removes their protecting coating. If you want to take a picture of your child with the fish, you need to do this quickly. The fish should be returned to the water as soon as possible. Make sure it is Legal Before you head out, you need to check your Fishing License.
What License You Will Need
You should have the right license as well as a day ticket or permit that allows you to fish. Tackle for children when you get to the fishery, your child will want their own fishing rod. It is best to keep the equipment simple as this makes it easier for them to us. A fishing rod or short pole will need to be set up for them. If this is their first fishing trip, you should consider float fishing. A float allows them to watch something while they wait for the fish to bite.
It can also add to the excitement when the float disappears under water when the fish takes their bait. Fishing can be a fun and exciting activity when you get a lot of bites and catch a lot of fish. The problem is that it will not always turn out this way. If fishing is slow on the day, you should talk about different types of bait, different pieces of fish and angling. Keep your children interested by talking about the nature around you.