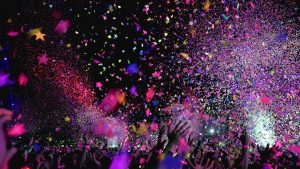 I had hoped at my age I would be capable of pulling off an impressive party like a pro. But, actually, I am not the type that can consistently throw Great Gatsby parties without stress, meltdowns and a great feeling of relief when the affair is finally concluded. So, from sourcing music to venue hire for a 30th birthday party, I have decided to include Vanessa from Cambridgeshire based Rocks and Frocks as my deus ex machina. Here, she will share some of her top-notch tips and tricks on throwing an absolutely amazing party that people will be talking about forever.
Top Party Secrets from Rocks and Frocks
1. Have a budget plan well in advance
The size of the budget is not so important, it is the amount of time you give yourself that will decide how much you can actually accomplish. It will be no easy task to plan a large party when your budget will barely cover a small BBQ. Nevertheless, once you know exactly what you can work with you can move on to the fun points. You will need to be imaginative and prioritise your project. Look at the most expensive items in your plan – is it the number of guests, the cost of the venue or the food and drink? Remember that guests will resent being bored, hungry or thirsty, but they will always enjoy too much of a good thing.
2. Get the invitations out early
Not just early, but make sure they look amazing as well. Your guests have no idea about the party so this is the moment to build all the expectation and anticipation. If you do a good job, your guest will arrive on roller skates and cancel all other prior engagements to make sure they arrive.
3. The devil is in the details
Planning is everything, not just for the success of the event but the sanity of the planner. You will not regret a moment going over the details of how much food and drink, organising the cutlery and making sure that you won't have to make an emergency run-out in the middle of your big event. Themed parties are always a popular party idea and you should take some time thinking about a theme that will delight and astonish. It could be a style of music, a favourite film or even a colour scheme. Make sure the elements of the theme have been properly woven into each detail from the original invites to the decorations and food. If you have a decent budget, you may even hire props and entertainers.
4. Lights, Camera, Action
Plan your party like an exciting journey with many fun reveals along the way. These reveals will begin with the initial invite and then what they find as they arrive: the details of the food, décor and whatever else you have planned. If you will hire a DJ to handle the music, don't assume they know what is suitable for your party; go over an exact playlist that everyone will find fun and exciting. This way you don't need to find out about your DJ's predilection for K-Pop. Lighting is also very important in setting the right atmosphere for the tone of the party. Outdoor lighting provides ample opportunities to set up a dramatic entrance to the event, even hanging ornate chandeliers from the boughs of a tree.
5. Set up and clear down
If you have some extra holidays banked at work go ahead and take some time off as your personal investment to your party and sanity as a party planner. This will allow you to plan freely and take on the additional responsibilities of meeting the marquee people, dressing the venue and expecting deliveries. Then, once the last guest has left, there will still be the clear up to face. This can be especially trying as you will likely be exhausted and possibly slightly hungover. If you take the time to enlist some friends to help out with this project you can make the activity and extension of the party by uncorking a bottle or two and sharing some laughs.