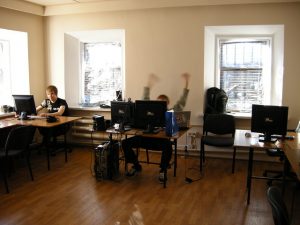 Some evolutions have taken place in the modern office over the past 20 years. Open floorplan has become the preferred option over cubicle farms in the 2000s, and 2015 brought foosball and ping pong tables into the office. Office trends change regularly, but there is one thing that doesn't change: the impact the office environment has on the wellbeing and health of the employees.

Quality design of the workspace will lead to less stress and increased productivity. This is why it is key for employers to take into consideration the work environment of their employees.

There is a report by Fellowes Workplace Trend that showed employees are interested in working in a healthy environment. Below are some of the findings from the study:

87% of workers would like their employer to provide healthier workspace benefits, with some of the options coming up including company fitness benefits, wellness rooms, healthy lunch options, sit-stands, and ergonomic seating.

Employees working in younger companies stand a lower chance of getting turn downed (34%) when asking for in-office benefits such as stand desks, while those working in established companies were more likely to be turned down (42%).

93% of employees working in the tech industry said they would have stayed at the company a little longer if they were offered workspace benefits, with some options being company fitness benefits, wellness rooms, healthy lunch options, sit-stands, glass office partitions, and ergonomic seating.

People spend about a third of their lives in the office, and for companies to retain the top talent, they have to foster an environment that will empower people with the right workspace where they can collaborate and think naturally. 70% of offices are open plan, and this can be a great layout. If you do this, make sure you have correctly implemented it with happiness and productivity of your employees in mind. From providing quiet space for meditation or even fun, private rooms for taking calls, comfortable areas that will promote collaboration, it is important to think about different environments for maximising the well-being of employees when it comes to building office spaces.

Air
Many people don't know that the air quality in the office can have an impact on the health of employees, which will affect productivity. A study done by the World Green Building Council recorded an increase in productivity of 11% when there was increased fresh air and reduction in pollutants to the workplace.

Water
Water makes up 73% of the brain, and this is why drinking water help in improving energy levels and sleep quality, as well as clarity of mind, ability to focus, and our alertness and awareness. The benefits will then help in improving productivity at work.

Nourishment
There is a good chance you have heard the saying 'You are what you eat', and this is even truer in the workplace. The food that your employees are eating is what is going to give them the fuel and powers when working. If you want them to feel productive, focused, and energized, you will need them to eat a nutritious and balanced diet that is going to provide their bodies with the nourishment they need to succeed. You should encourage your employees to follow healthy eating habits.

Light
There was a study done by the Department of Design and Environmental Analysis at Cornell that showed employees seated within 10 feet of the window saw a decrease of 84% in eyestrain, blurred vision symptoms, and headaches.

Comfort
The workplace should be a comfortable place. Proper use of ergonomics can help in lessening muscle fatigue, reducing the severity of musculoskeletal disorders (MSDs), and increasing productivity. MSD is cited as the most common cause of lost work time. Your employees should have a comfortable and distraction-free environment.

Mind
There is another study by Global Impact of Biophilic Design showing people working in spaces that have natural features recorded a higher level (15%) of overall wellbeing. The employees said they experienced a 6% increase in productivity and 15% more creativity at work. Improvements will be found in collaboration, concentration, creativity, and confidentiality when the interior design of the office factors in the occupants, both social space and breakout space.