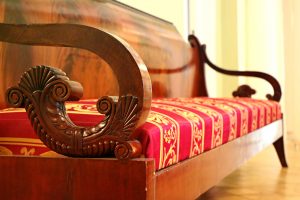 There is hardly anything more satisfying than the appearance of fine antique furniture kept in exquisite conditions. The Abbey Group knows that older furniture is not only very rare but develops a fine warmth and beauty over the years (QUERY: check link) that is impossible to find in newer furniture options. This warmth and charm is called patina and is the result of careful maintenance over many years. Some finer pieces of wooden furniture will take centuries to produce a perfect patina. But without proper care and maintenance, the wooden furniture can be damaged easily and repairs can be difficult. If you find yourself the lucky owner of a piece of fine antique furniture, you will want to invest extra special care.
Wax it Often
Patina will not develop on its own, it needs to be cultivated through careful maintenance practices. The most important task for building and maintaining a fine patina is waxing. Use a good, natural beeswax as this has all the best nourishment and protective qualities for fine wooden furniture. As it is worked into the wood beeswax will nourish the fine colours of the grain.
Waxing itself is a simple task: Apply a small dab of wax to your dry lint-free furniture cloth and begin rubbing briskly in the same direction as the grain. Continue until the surface is shiny. If your wooden furniture is drying out, the wax may be absorbed quickly into the wooden materials and the shine will be short-lived. That's OK, just keep applying the wax and rubbing it thoroughly until you create a shine that remains. Repeat the dusting every couple of months and use a daily dusting to create a waxy-skin that protects the wood and creates the patina.
Think About Positioning
The whole joy of owning an antique piece of furniture is to keep it somewhere its charm and warmth can be seen by all. But the place you choose for your antique should also protect it from the elements. Placing it near the windows or heating vents can be a bad idea. UV rays from the sun can begin to impact the waxy skin and beautiful colour tones, deteriorating the fine visual appeal. The heat from the sun or open vents can contribute to drying out the wood and deteriorating glues, lacquers and other materials. The best place for your antique will be in a spot where the suns ray will not touch it and the temperatures and humidity levels are kept regular.
Moving and Handling
The time when your antique furniture will be most susceptible to damage will be when moving from one place to another. Antiques can be badly scratched when being carried through narrow alleys are have their structural integrity deteriorated while being hauled in a tightly packed moving van. When moving an antique, exercise all the care and patience you would in transporting an ageing member of the family who has lost all mobility but not beauty or charm. Two people are required to relocate an antique and they must be able to lift and carry the object with ease, or you will need two stronger people. Never drag your antique across the floor as this severely damages the structure and can result in chipping and scratching. Never tilt an antique backwards and apply pressure to the legs in a way they weren't designed to support pressure as this can result in a sudden heartbreaking snap. For best results, use a furniture glide to carefully wheel the unit across the floor. Always lift the object from the lowest place possible and remove any drawers or other moving parts before attempting to relocate the unit.
While this may all seem like a lot of fuss for what seems like a stable and formidable piece of furniture, small damages from rough handling will be more evident in the future and can seriously shorten the longevity of your antique. Often, despite our best efforts to protect our beloved furnishings from harm the unthinkable can happen. But a few small or even some big damages doesn't spell the end of your antique. There is a chance that a professional antique restoration specialist can return your furniture to its original splendour with no evidence of damage at all. This, of course, will require considerable experience to perform and this work is not cheap. It is far cheaper to be careful.
QUERY: Unsure why formatting is inconsistent.