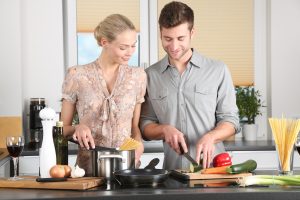 It has been proven that introducing your children to how food is prepared in the kitchen and getting them involved as young as possible contributes towards helping them to make choices that are healthier when they grow up, and can even help to prevent picky eaters.
Introducing your child or children to your kitchen when they are still young, will help them to develop the skills that will benefit them immensely when they are older. It also helps to impart fond memories of the time they spend with you.
However, before you embark on this crusade in order to get your kids more involved in your kitchen, it is crucial to first make sure this space is inviting, and more importantly, a safe environment to work in. This will go a long way towards teaching your children about practical food preparation, how to cook and a way to enjoy mealtimes together. Here are a few practical tips to ensure your kitchen is child-friendly:
1. Avoid Any Sharp Edges
Keep in mind that a young child is more likely to only just reach worktops or the handles of kitchen cupboards. And when it comes to younger children that are still developing their spatial awareness, they may be prone to sustaining cuts or bumps.
While the more modern designs are focused on sharp and sleek edges, when you have small kids in the kitchen it would be better to consider a design with edges that are rounded. In addition, choosing kitchen units that are handleless is one of the easiest ways to make sure your children won't bump their heads and it removes the temptation that these handles need to be opened or pulled on.
It is also a good idea to use magnetic locks on your base units, yet you should always still store any dangerous items in cabinets that they are unable to reach.
2. Keep Your Hot Areas Safe
While all the best child-proofing methods in the world will not come close to being vigilant, you can still use these tips to lower the risks involved from the hot areas such as boiling kettles and hobs. Your custom glass splashbacks might encourage your children to focus more on the hob, so when possible, choose one of the induction hobs rather than an electric or gas stove. The induction hobs are designed in a way that they only provide heat to a pan or a pot rather than the hob, which means that once you are finished cooking and you have removed the pan, the temperature quickly drops, reducing the risks of burns.
3. Keep A "Kids" Cupboard
Even though safety in the kitchen is paramount when there are young children around, you should still make it an environment where your kids can explore and learn. Dedicating one of the cupboards in your kitchen for just your children will help them to enjoy preparing and cooking meals with you.
Choose one of the low-level base units that are easy to access for your kids. Equip the cupboard with safe equipment, food items, and utensils. This could include items like plastic cups, bowls, measuring spoons, and plastic utensils. This will also allow them to set their own places at the dinner table.
4. Have Fun
In addition to the safety tips mentioned above, if you want a child-friendly kitchen it is important that you are relaxed and you are able to have fun with your kids. Once you have taken all the steps necessary to create a fun and safe environment you can focus more of your attention on enjoying this special time with your children.
Whether you prepare food together or dine together as a family, try to make sure your kitchen always feels like an inviting and welcoming space for your kids.