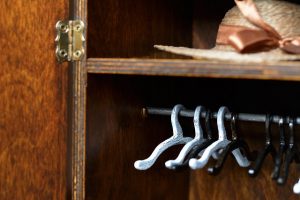 As it gets warmer, everyone starts to put away those heavy winter jackets and fur coats, and look for some lighter and more colourful clothes for summer. This process of getting rid of some clothes while replacing them with others can be quite hectic. But why not take advantage of this transition to do a total wardrobe makeover? Keeping your wardrobe organised doesn't have to be a difficult task. You only need to follow a few wardrobe organising tips and you'll never lose a sock, scarf or top ever again.
Hang Them Up
Depending on how you dress, you may have a large collection of clothes and accessories in your wardrobe. While all of this stuff may be fun to look at, if they are not arranged properly, they can easily mix up and cause all manner of chaos in your wardrobe. However, if you arrange everything properly using a few curtain rings and a coat hanger, you'll have everything hanging nicely and in perfect order so that you can use your wardrobe space effectively.
Summer vs. Winter
It goes without saying that the more clothes you have, the more work you have to put in to keep your wardrobe tidy. Having a lot of clothes crammed into a tiny space can lead to a disorganised and cluttered wardrobe. However, this does not mean that you should throw away some of your clothes. Indeed, you should try and get rid of old and worn out clothes as often as you can by giving them away to charity, but the best option is to divide your wardrobe into 'Summer' and 'Winter' sections. Season-categorised clothes can be properly kept in storage until when they are needed. This simple trick can help you free up a lot of space in your wardrobe. How cool is that?
Invest in Drawer Dividers
Drawers are commonly seen as the final resting places for old underwear, bras and socks. Sorting drawers therefore becomes a daunting task due to overcrowding of multiple items. This problem can be easily rectified by installing dividers in your drawers. You can find cheap drawer dividers on the web, in companies like Blue Box Storage or even make some on your own at home. If you are really short on space at home, you can also opt to vacuum pack old undergarments and socks before putting them in storage. Vacuum packing keeps moisture and odours away, and clothes remain clean until they are ready to be worn again.
Beat the Creases
Creased clothes can cause you major headaches, especially if you are attending important occasions or dressing formally for work events. To avoid creasing your jeans, try hanging them by the belt loop on an S hook. You can save a lot of space and avoid creasing your clothes using this simple trick. You can avoid creasing your shirts by hanging them on a line with pegs as they dry. When they are dry, hang them on a plastic coat hanger that has thick shoulders.
Learn How to Fold
Ever since Marie Kondo's documentary was unveiled on Netflix a couple of months ago, many people have changed how they tidy and organise their wardrobes and lives in general. Probably one of the best tips she has given in her documentary is how people should go about folding their clothes. Folding clothes may seem like a trivial task but it actually plays a crucial role in how organised your wardrobe is. Marie shares some techniques you can use to fold your clothes that free up space in your drawers, while still being able to see all your garments. Essentially, you need to fold your clothes and arrange them in a single file, all facing up. You can find out more about many other efficient folding techniques by watching Marie's documentary. You may need to practice a few times before you get the hang of it. We hope the above tips will do more than just help you to organise your wardrobe for summer but for  the entire year as well.